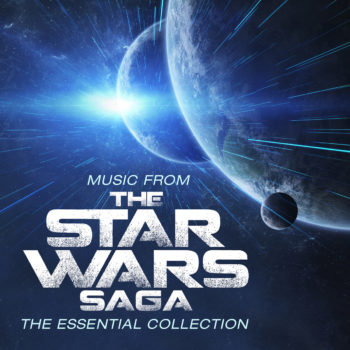 Sony Classical zaprasza do odbycia muzycznej, międzygalaktycznej podróży podczas słuchania albumu "Music From The Star Wars Saga – The Essential Collection".
20 grudnia na ekrany kin na całym świecie trafia ostatnia część sagi, zatytułowana "Star Wars. Skywalker. Odrodzenie". Prezentowany Państwu album zawiera najbardziej popularne fragmenty muzyczne sagi. Premiera 6 grudnia.
Wykonawcami są: The Slovak National Symphony Orchestra, członkowie Slovak Philharmonic Choir. Całąścią dyryguje Robert Ziegler.
Tracklista:
1. Star Wars: Main Title
2. Duel of the Fates (From "Star Wars: Episode I – The Phantom Menace")
3. Anakin's Theme (From "Star Wars: Episode I – The Phantom Menace")
4. Across the Stars (Love Theme) [From "Star Wars: Episode II – Attack of the Clones"] 5. Battle of the Heroes (From "Star Wars: Episode III – Revenge of the Sith")
6. Princess Leia's Theme (From "Star Wars: Episode IV – A New Hope")
7. The Throne Room / End Title (From "Star Wars: Episode IV – A New Hope")
8. The Asteroid Field (From "Star Wars: Episode V – The Empire Strikes Back")
9. Yoda's Theme (From "Star Wars: Episode V – The Empire Strikes Back")
10. The Imperial March (From "Star Wars: Episode V – The Empire Strikes Back")
11. Han Solo and the Princess (From "Star Wars: Episode V – The Empire Strikes Back")
12. Parade of the Ewoks (From "Star Wars: Episode VI – Return of the Jedi")
13. Luke & Leia (From "Star Wars: Episode VI – Return of the Jedi")
14. The Forest Battle (From "Star Wars: Episode VI – Return of the Jedi")
15. Rey's Theme (From "Star Wars: Episode VII – The Force Awakens")
16. March of Resistance (From "Star Wars: Episode VII – The Force Awakens")
17. Ahch-To Island (From "Star Wars: Episode VIII – The Last Jedi")
18. The Battle of Crait (From "Star Wars: Episode VIII – The Last Jedi")
empik.com