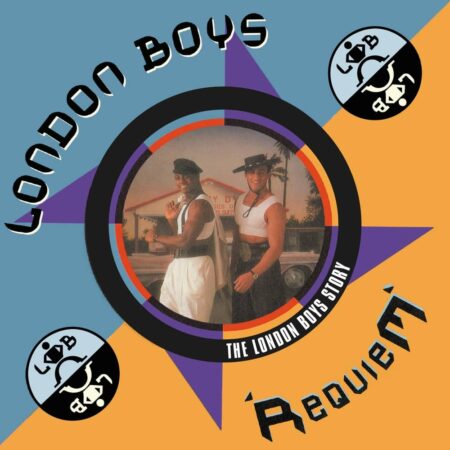 Edem Ephraim i Dennis Fuller, obaj prawdziwi londyńczycy z East Endu, zostali ochrzczeni The London Boys w 1986 roku. Zostali odkryci w Hamburgu przez producenta Ralfa-René Maué, który natychmiast dostrzegł ich potencjał. Duet zasłynął singlem "Requiem" zyskując popularność na arenie międzynarodowej dzięki Pete'owi Watermanowi, który przekonał wytwórnię The London Boys UK do wydania płyty. "Requiem" wspiął się na 4 miejsce na listach przebojów, a zaraz po nim nagrali hit nr 2 "London Nights". Oba znalazły się na albumie "The Twelve Commandments Of Dance", który pokrył się podwójną platyną. Kolejne hity to "Harlem Desire", "My Love", "Freedom" i "Chapel Of Love".
Teraz po raz pierwszy uczcimy pamięć The London Boys nowym 5-płytowym boxem, zawierającym trzy albumy, poszerzonym o wiele dodatkowych materiałów. Całość wydaje cherryred records.
DISC ONE:
THE TWELVE COMMANDMENTS OF DANCE
1. REQUIEM
2. KIMBALEY (MY MA-MAMA SAY)
3. HARLEM DESIRE
4. CHINESE RADIO
5. WICHITAH WOMAN
6. MY LOVE
7. LONDON NIGHTS
8. I'M GONNA GIVE MY HEART
9. EL MATINERO
10. DANCE DANCE DANCE
11. SANDRA
12. THE MIDI DANCE
13. HELPLESS
14. TALK! TALK! TALK!
15. HEARTACHE
16. REQUIEM (Continental Edit)
17. LONDON NIGHTS (PWL 7" Remix)
18. HARLEM DESIRE (7" Mix)
19. MY LOVE (7" Remix)
20. REQUIEM (Special U.K. Mix Edit)
DISC TWO:
THE TWELVE COMMANDMENTS OF DANCE DISC II
1. I'M GONNA GIVE MY HEART (Maxi Mix)
2. HARLEM DESIRE (Maxi Mix)
3. DANCE DANCE DANCE (Maxi Mix)
4. MY LOVE (Maxi Mix)
5. REQUIEM (Continental Mix)
6. LONDON NIGHTS (Extended Version)
7. HARLEM DESIRE (Extended Remix)
8. MY LOVE (Extended Remix)
9. REQUIEM (London Remix)
10. LONDON DAYS (Instrumental)
DISC THREE:
SWEET SOUL MUSIC
1. SWEET SOUL MUSIC
2. TONIGHT! TONIGHT!
3. FREEDOM
4. IS THIS LOVE
5. BOB MARLEY
6. WAS?! (JUST AN ILLUSION)
7. LOVE TRAIN
8. HIGH FIDELITY
9. CHAPEL OF LOVE
10. CHEROKEE
11. REGGAE-REGGAE, RASTA RASTA (Reprise)
12. CHAPEL OF LOVE (Radio Mix)
13. IS THIS LOVE (7" Remix)
14. FREEDOM (Eight-O-Eight Mix)
15. SWEET SOUL MUSIC (Soul Kitchen Mix)
16. CHAPEL OF LOVE (Hot Mix #2)
17. FREEDOM (Instrumental)
18. CHAPEL OF LOVE (Jungle Mix) (Previously Unreleased)
DISC FOUR:
LOVE 4 UNITY
1. BABY COME BACK
2. I HAVE A DREAM
3. PHILADELPHIA '69
4. KNOCK, KNOCK, KNOCK
5. MOONRAKER
6. OH, TRACEY
7. WE'RE CALLING THE WORLD
8. DREAMS OF GLORY
9. WALK ON BY
10. MY PRAYER
11. A BEAUTIFUL VIEW OF THE EARTH (Deep-Affinity Remix)
12. BABY COME BACK (Rapino 7" Handbag Mix)
13. MOONRAKER (Friendship 7 Mercury Mix)
14. BABY COME BACK (Please Come Home Extended Version)
15. MOONRAKER (Tribale-Base Mix)
16. BABY COME BACK (Teryjaky With Rapino Brothers Club Mix)
17. MOONRAKER (The Instrumental)
DISC FIVE:
DANCE! DANCE! DANCE!
1. THE LONDON BOYS MEGAMIX
2. HARLEM DESIRE (Extended Mix)
3. I'M GONNA GIVE MY HEART (Remix)
4. LONDON NIGHTS (London Remix)
5. CHAPEL OF LOVE (Hot Mix #1)
6. REQUIEM (Hamburg Mix)
7. IS THIS LOVE (Come On Jamaica Remix)
8. HARLEM DESIRE (Instrumental)(Previously Unreleased)
9. I'M GONNA GIVE MY HEART (Instrumental)
10. MY LOVE (Instrumental)
11. CHAPEL OF LOVE (Instrumental)
12. DANCE DANCE DANCE (Instrumental)
13. GOSPEL TRAIN TO LONDON