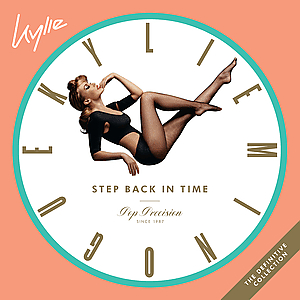 Przez kilka ostatnich dni Kylie Minogue informowała fanów, za pomocą zegara odmierzającego czas, że niebawem ogłosi coś nowego. Szczegóły zostały właśnie ujawnione, a wraz z nimi pojawiła się nowa piosenka. Już 28 czerwca do sprzedaży trafi "Step Back In Time: The Definitive Collection", zbiór największych przebojów Kylie, piąte tego typu wydawnictwo w jej dyskografii. Na albumie będzie można znaleźć nową piosenkę, "New York City", którą Kylie nagrała na wydany w 2018 roku album "Golden".
"Step Back In Time: The Definitive Collection" ukaże się na płycie CD, winylu, kasetach magnetofonowych oraz w wersji cyfrowej.
CD 1:
Can't Get You Out Of My Head
Spinning Around
Love At First Sight
Dancing
In Your Eyes
Slow
All The Lovers
I Believe In You
In My Arms
On A Night Like This
Your Disco Needs You
Please Stay
2 Hearts
Breathe
Red Blooded Woman
The One
Come Into My World
Wow
Get Outta My Way
Timebomb
Kids (with Robbie Williams)
Stop Me From Falling
CD 2:
Step Back In Time
Better The Devil You Know
Hand On Your Heart
Wouldn't Change A Thing
Shocked
Especially For You (with Jason Donovan)
I Should Be So Lucky
Celebration
The Loco-Motion
Give Me Just A Little More Time
Never Too Late
Got To Be Certain
Tears On My Pillow
Je Ne Sais Pas Pourquoi
What Kind Of Fool (Heard All That Before)
What Do I Have To Do?
Confide In Me
Put Yourself In My Place
Where The Wild Roses Grow (with Nick Cave & The Bad Seeds)
New York City (Bonus Track)