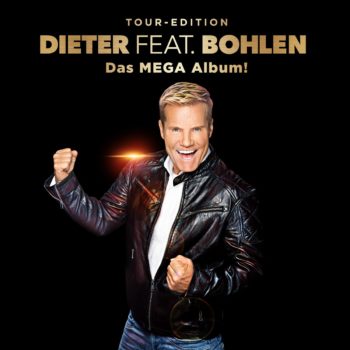 Fani Dietera czekali na to ponad 12 lat. Tytan muzyki pop ponownie wyrusza w trasę koncertową, która promował będzie swój album zatytułowany "Dieter feat. Bohlen (Das Mega Album)". Na albumie, który dostępny będzie na płycie CD, trzypłytowym albumie CD oraz kolorowej płycie winylowej znalazły się jego wielkie hity zaśpiewane osobiście przez Dietera!
Na jednopłytowym albumie znalazły się klasyczne hity, nowe wersje oraz remiksy. Nie zabraknie tu ponadczasowych megahitów: "You're My Heart, You're My Soul", "Brother Louie" czy "Cheri, Cheri Lady".
Limitowana, trzypłytowa edycja to dodatkowy album z wersjami instrumentalnymi oraz hitami i rarytasami z całej kariery artysty. Dziewięć piosenek jest po raz pierwszy dostępnych na oficjalnej płycie Dietera. Do wydawnictwa dołączona jest obszerna książeczka z ciekawostkami i niespodziankami dla fanów.
Ponadto ukaże się kolorowa płyta winylowa (Picture Vinyl), na której znalazło się dwanaście hitów autorstwa Dietera Bohlena.
Tracklista:
CD 1
1. You're My Heart, You're My Soul Tv-Orchestral-Version
2. Atlantis Is Calling (S.O.S. For Love) (New Db Version)
3. Cheri, Cheri Lady (New Db Version)
4. Brother Louie (New Db Version)
5. Call My Name (New Db Version)
6. You Can Win If You Want (New Db Version)
7. Midnight Lady (New Db Version)
8. My Bed Is Too Big (New Db Version)
9. Take Me Tonight (New Db Version)
10. Win The Race (New Db Version)
11. Now Or Never (New Db Version)
12. We Have A Dream (New Db Version)
13. You're My Heart, You're My Soul New Db Club-Version
14. Modern Talking No.1 Hit-Medley 2019 (New Db Version)
You Can Win If You Want
Atlantis Is Calling (S.O.S. For Love)
Cheri, Cheri Lady
Brother Louie
You're My Heart, You're My Soul
CD 2
1. You're My Heart, You're My Soul (New Db Version) – Instrumental Version
2. Atlantis Is Calling (S.O.S. For Love) (New Db Version) – Instrumental Version
3. Cheri, Cheri Lady (New Db Version) – Instrumental Version
4. Brother Louie (New Db Version) – Instrumental Version
5. Call My Name (New Db Version) – Instrumental Version
6. You Can Win If You Want (New Db Version) – Instrumental Version
7. Midnight Lady (New Db Version) – Instrumental Version
8. My Bed Is Too Big (New Db Version) – Instrumental Version
9. Take Me Tonight (New Db Version) – Instrumental Version
10. Win The Race (New Db Version) – Instrumental Version
11. Now Or Never (New Db Version) – Instrumental Version
12. We Have A Dream (New Db Version) – Instrumental Version
13. You're My Heart, You're My Soul New Db Club-Version Instrumental
CD 3
1. Jung Und Frei Live IFA BERLIN 1981
2. Halé, Hey Louise ZDF Hitparade 1982
3. Love Takes Time
4. The Night Is Yours, The Night Is Mine
5. You're My Heart, You're My Soul Extended Version
6. Cheri, Cheri Lady Special Dance Version – Instrumental Version 1985
7. Cheri, Cheri Lady Extended Version
8. Sorry Little Sarah
9. Magic Symphony Fun Mix – Instrumental Version 1987
10. Rivalen Der Rennbahn Instrumental
11. Magic Race Long Version
12. Space Mix '98
Rap-Intro
Cheri, Cheri, Lady
Brother Louie
You Can Win If You Want
Geronimo's Cadillac
Atlantis Is Calling
You're My Heart, You're My Soul
Applaus
13. Win The Race Scooter Remix – Instrumental Version 2001
14. We Have A Dream Radio Edit
15. TV Makes The Superstar Instrumental Version 2003
16. You Can Get It Wetten, Dass..? ZDF – Mallorca 2007
17. Modern Talking Pop Titan Megamix 2k17 3-Track DJ Promo
One And Only Superhero Intro
Brother Louie New Version 2017
empik.com